Our 'Quick Hire' path to success
Are you searching for a new career in a fast-paced, growing industry? At Quantum Services, we're in your corner from the very start! We understand finding a new job can be overwhelming, so we want to make the process as easy as possible to get hired. If you're motivated to find the right fit position and give it your very best effort, we're ready to meet you and learn more!  
Discover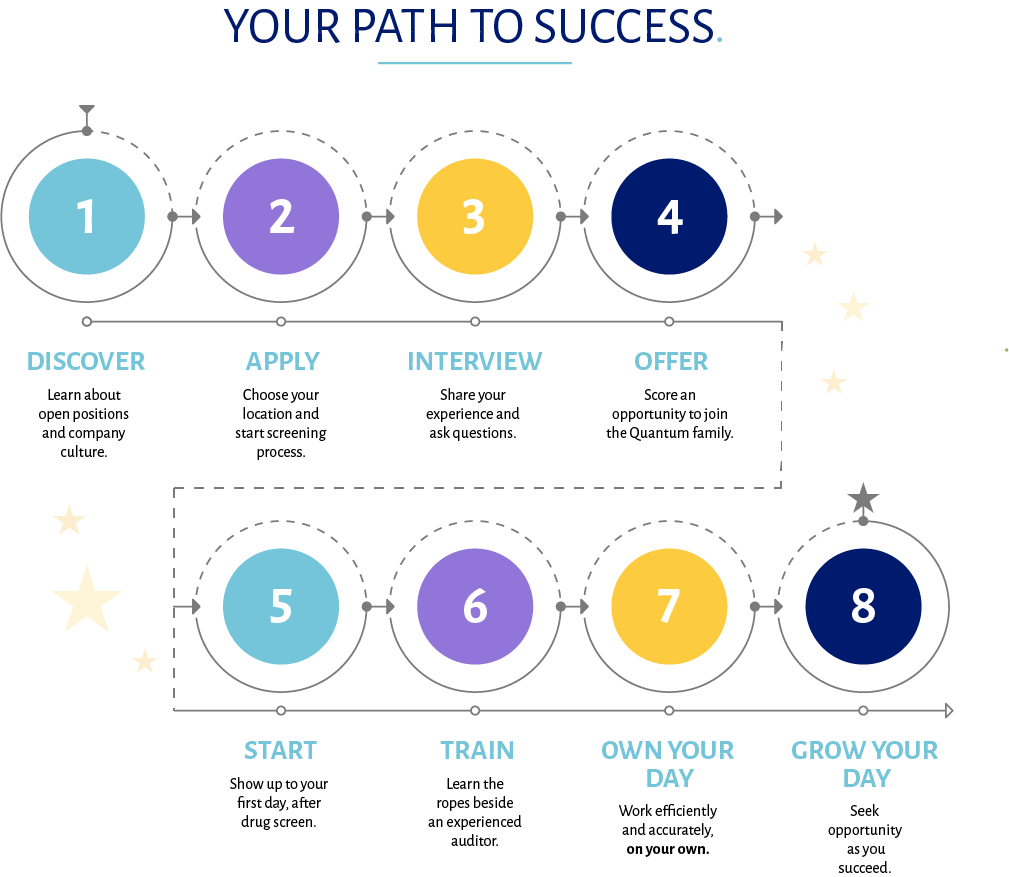 All of our open positions across the country are listed on our website. Openings change daily, so be sure to check it out often to see if we're hiring in your area. At our careers website, you can learn more about our company culture, benefits, clients and what the average day for an inventory auditor looks like once you get hired. Being well-informed about the type of position we offer will help the hiring process to move along quickly. Of course, we are happy to answer any questions along the way.  
Apply
Right from our website, you can apply for an open position near you. Take your time as you follow the prompts to upload your resume and fill out the application form. Ensure your phone number and address are accurate! Be honest and open about your experiences and history as you answer the questions—we appreciate hiring people from diverse backgrounds who have integrity and a ready-to-work attitude. 
Because our auditors drive locally each day, all applicants must be able to pass a motor vehicles check and drug test, provide a valid driver's license and liability car insurance, and possess reliable transportation. Traveling locally each day is what we do, and our inventory auditor positions offer an independent workday conducting audits in our clients' stores. 
Screening Texts
Once your application is submitted and we verify you are within one of our hiring areas, you will receive a series of text questions within about 1-3 days. These questions ensure you are still interested in the scope of the job and its pay and location.  
Please answer these text questions swiftly, honestly and accurately to keep the process moving along! If you are no longer interested, please tell us—we understand circumstances can change. A phone interview is scheduled at the end of the text conversation if you live within the local area we are hiring for and you meet our needs and vice versa.  
Phone Interview
Once a phone interview is scheduled with one of our Ops Managers, prepare for the call by reviewing our careers website and jotting down any questions you would like to ask. Don't be nervous about the call! We just want to get to know you and your strengths, fill you in more about the position and duties, and give you the chance to ask questions in return. No matter your background or previous work experience, be ready to give examples of how you have demonstrated integrity and adaptability either at work or school or in a personal situation. 
Offer
If the job feels right for you and we feel you are the right fit for the job, an offer to join the Quantum Team will head your way shortly after your interview. Either way, we will be sure to fill you in on how we plan to proceed. If the offer is accepted and you get hired, you will learn about your first day. This includes where to go, what time to show up and what to expect. Before your first day, you also will be asked to complete a drug test.  
Ready to get started? We're ready to hear from you! If you're looking to work for a family-friendly company with strong values and the best processes in the industry, we are ready to offer you a great team culture, quality benefits and an independent job you can be proud of.