Maybe you've been searching for weeks (even months) for a new job. You know you're ready for a change and want to work for a great company. There are hundreds of job postings online, and you've whittled them down to a few that seem interesting and promising. As you hit "submit application," your heart rate increases, and you wonder if it's the right job for you.  
As you evaluate jobs, remember the hiring process is a two–lane road. While a company must evaluate the fit of the applicant, the applicant is researching and assessing if the company is a good fit for them. It might take time to explore businesses online, but you'll have a better understanding of them before you interview and be able to ask the right questions to learn more.  
Check out their website
 first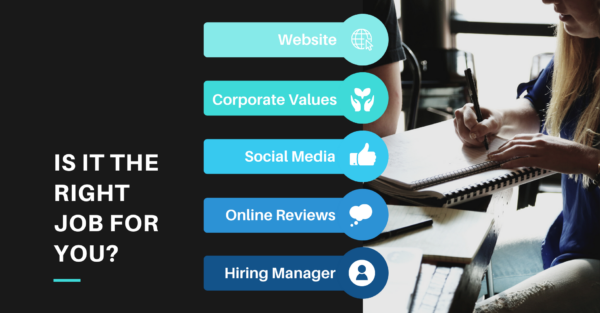 If a job catches your eye and the company seems like a good one, go to their corporate website. Review their story and learn about their company culture, mission and values. Do their values align with yours, as wayup.com encourages? Read the bios of their leaders and review blog posts and announcements. Do they seem to care about their employees, product or service, and their business image? There likely is a great deal you can learn quickly about how you might be valued in their workplace.  
It's also important to review a company's career website or page, which you should be able to find from their main website. Also, take a look at their Facebook, LinkedIn and even Instagram profiles. Do the posts they create resonate with you positively or negatively? Heather Huhman at Glassdoor advises, "You can also learn more about the company culture by following the organization on its social media networks."  
Along the way, jot down questions left unanswered. Perhaps you want to know more about benefits, what the average workday looks like, or how vacations and days off are handled. Details like these might not be available online. 
Take 
online 
reviews with a grain of salt
There are some great employees out there who might take the time to thoughtfully review their current employer. They might even post it on reputable websites for the world to see. Unfortunately, there are many more reviews posted immediately after someone is let go from a position. Or, they might post a review when they are otherwise unhappy with a company. Such reviews are often skewed and offer only one side of the story.   
Reading workplace reviews can be helpful as you begin to evaluate a potential new employer. Websites such as Indeed and Glassdoor, and platforms like Google and Facebook, offer ways for people to post and assess reviews. However, they should be considered alongside many other factors in your research of a job and a company. Always look at the year a review was posted. Give greater weight to those posted more recently. Read through the entire company profile, especially Q&As if presented. If something concerns you in a review, write it down and bring it to the attention of the hiring manager to see how they respond.  
Raise
 questions to the hiring manager
After you assess a company online, you should be able to generate quite a few good questions that will help determine if the job is the right fit for you. Always have these questions ready to go before an interview. A good way to pose a question about something you read online is like this, from Careerbuilder: "While researching [the company] I learned [something you read], can you please tell me more about that?" 
The person interviewing you will appreciate that you did your research, came prepared and care about the type of company you will be working for. A few ideas for questions to ask right now include: 
How has the

 company treated their employees

 and clients

 

in light of all the changes due to

 COVID

? 

Here's how we would respond

.

 

What are the ways the company trains, supports and helps to advance its employees?

 

Explain the leadership structure and who I would go to for help or with concerns?

 

Are there any current employees I could speak 

with

 and ask them about their time with the company?

 
Although many would say the job market is tough right now, there are still many great companies hiring for fantastic positions across the country. At Quantum Services, we are expanding and have many job openings in multiple markets. We are always prepared to thoughtfully and honestly answer any questions our prospective employees might have about our positions. Likewise, if you are seeking a new job, you should only consider companies that are open to answering your questions with solid, genuine feedback.  
Check out our current openings by visiting our Facebook page or careers website.