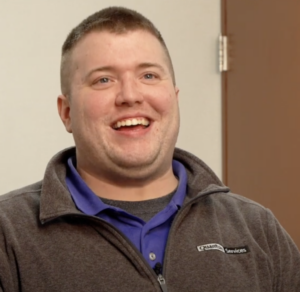 If you find yourself overcome with the monotony of your job, doing the same thing day in and day out, and craving some variety in your workday, becoming an Inventory Auditor may be the right fit for you. Becoming an Inventory Auditor provides a unique workday, and at Quantum Services, we try to give all our applicants a snapshot of what their day might look like.  According to Ben Lowery, Division Manager out of Mansfield, OH, one of the best things about it is that no two days are alike. We sat down with Ben to understand what his typical workday looks like, and all the positives and negatives that may go along with it.  
Prior to working as an Inventory Auditor with Quantum Services, Ben worked in retail at Kroger and in the medical field. Looking for a change, he applied to Quantum Services, and never looked back. Intrigued by the idea of being an Inventory Auditor specializing only in C-Store audits, and the challenges that may present, Ben applied and was hired.  He quickly realized that this position was a perfect fit for him personally and professionally.  
When asked why he chose to work for Quantum Services, Ben highlighted the challenge of something new, working with the general public, and the variety. He states:   
"Nothing is monotonous, you're not doing the same thing every other day, and it just makes for a really fulfilling work experience."  
Conducting the audit
Learning and understanding the audit process can be intimidating or scary at first, but once you have the process down, your day has the added benefit of providing the same service every day but in a different location. Providing comfort and confidence with added variety. We asked Ben to walk us through the audit process that he performs each day at various locations.  
He explained that when you first arrive at the C-Store, the Auditor comes in and sets up all their equipment and interacts with the store manager and team. Next, he walks around the store, identifying all the areas that need counting, as well as any hidden areas that could be overlooked. Once that is complete, the audit can begin. He counts the items with his Titan (a calculator used for auditing) and a hand-held scanner. Upon completing the count, he will view all his keystrokes, make sure his count is accurate, upload the information to the computer and place it on a USB for the supervisor. The supervisor will then review the count against their data, and if there are any inconsistencies, a re-count can occur for that specific product. If not, the audit is complete, and he is ready for the next store or free to go about his day.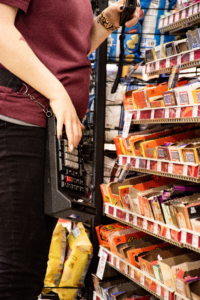 The best thing about working for Quantum
Ben is a people person, so it was no surprise that one of his favorite aspects of working with Quantum is the interaction with people at the various stores. He loves working with the crew and team members of the C-Stores and building relationships with his co-workers. He also is appreciative of the opportunities working with Quantum has offered him, saying: 
 "Quantum has helped me to grow both personally and professionally, by allowing me to branch out from what I have been normally doing in the past, allowing me to take on more leadership roles, allowing me to travel more (which has been a great experience), and allowing me to oversee general aspect of the day-to-day operations." 
What Applicants should consider
Like any job, there are going to be good days and bad days, Ben admits, but the unique work schedule and variety outweighs the bad days. When applying to be an inventory auditor, he wants people to know that you do not have a set schedule. Some weeks are 40+ hours, while others can fall under 40 hours. Occasionally, you will encounter difficult managers, but if you go in with a positive attitude, integrity, and a willingness to learn, there will always be someone to help you. This job is not for everyone, but if you enjoy people, are a hard worker, have a positive attitude, and focus on integrity you will love it and excel.   
For a list of open positions, visit our jobs page and apply today!