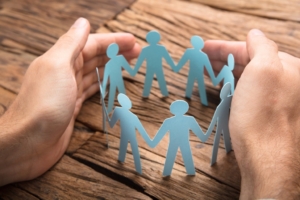 Trying to decide if a job is right for you? Many factors can play into your decision-making process. For example, what is the daily schedule and routine like, and what days will you work? How is the company's culture, and do they seem to truly care about their employees? And, will the health insurance work well for you and your family? At Quantum Services, we believe our healthcare plan is a step above the rest.
Ensuring a potential employer has a stellar benefits package is one of the most important considerations to make when seeking a new career. Applicants should take a close look at every benefit offered—especially its healthcare insurance options. It is well-known that healthcare costs are soaring across the country. Ultimately, one of the greatest perks a company can offer is affordable health and wellness coverage.
Health insurance, your way
We routinely review and revise the robust options we offer our employees. When it comes to health insurance, we provide an array of choices for every team member. Quantum Services offers a High Deductible Healthcare Plan (HDHP) for medical insurance. This gives each employee options when it comes to their health care coverages and costs.
New in 2020, Quantum is proud to offer an employer match—of up to $520 per year—to its employee Health Savings Accounts (HSAs). HSAs allow you to contribute tax-free money toward out-of-pocket medical expenses. This includes prescription drugs, dental visits and contact lenses. The money is always yours, and you can use it toward medical costs for any dependents. Or, you can choose to invest it and watch it grow, tax-free!
Another way Quantum helps its employees save money is through an online tool called My Medical Shopper. Employees simply login via app or website. Then, they can search locally and choose where to receive medical care based on price, quality and convenience. Lower out-of-pocket costs are attainable using this powerful tool. Users can view varied pricing levels across different healthcare providers. This easy-to-use, portable tool helps users to save hundreds (if not thousands) on medical expenses.
A range of healthcare benefits
Quantum's benefits are designed to help our employees stay healthy, feel secure, and maintain a strong work/life balance. The healthcare benefits we offer to our full-time employees (working at least 25 hours per week) and their eligible dependents include:
medical and dental insurance
vision reimbursement
short-term and long-term disability
Health Savings Account with company match
telemedicine through Teladoc
My Medical Shopper online tool
healthy rewards program
basic life and voluntary life insurance
We recognize our team members work hard each day to care for our clients. In return, we are proud to take care of them and their families. Our premium healthcare benefits ensure our team maintains good health and peace of mind.
Learn more about the benefits Quantum Services offers its employees