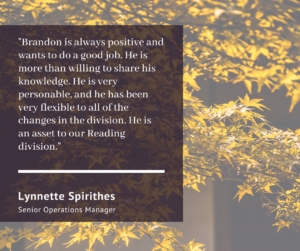 The month of November is typically reserved for sharing gratitude for the wonderful people around us and giving thanks for the things we might otherwise take for granted. It's a special time to reflect on the prior year and all the good that has come our way. While every Quantum Services team member loves this season, we pride ourselves on finding fun ways to extend the gratitude throughout the entire year.  
It is proven gratitude makes you happier. Harvard Medical School shares, "In positive psychology research, gratitude is strongly and consistently associated with greater happiness. Gratitude helps people feel more positive emotions, relish good experiences, improve their health, deal with adversity, and build strong relationships." Gratitude motivates, it is contagious, and it just feels good to give and receive! 
A core value
Since thankfulness is so important to our happiness and the way our company operates, we have made it one of our four core values. Along with integrity, adaptability and continuous improvement, the value of appreciation is deeply embedded in our culture. People want to be admired, appreciated and recognized for what they do. Going the extra mile at Quantum Services never goes unnoticed, even during these distanced times.  
This past summer, we switched all of our typically in-person Audit Supervisor Development Group (ASDG) trainings to remote meetings. To ensure a high level of appreciation could still be felt while at home, our managers sent personalized "thank you" videos to be shared across the teams. It was a fun way for us to recognize the hard work our employees put in every day and make them feel special. We know it's more important than ever to find small ways to show gratitude for the often-overlooked daily grind.  
Embedded in our company history
Our president, Barrett Crook, has been with the company for 24 years. He
first worked his way up from auditor to division manager. Then, he had multiple different corporate positions as he learned about every aspect of the company and our clients' businesses. There's not a problem he has not endured himself nor a challenge he has not met head-on. "A smile and a thank you go a long way," said Barrett. "As does a positive attitude while treating clients and vendors like you would prefer to be treated."  
Through the years, we've found sharing gratitude builds empathy and understanding for what others might be going through. According to Katie Burke with HubSspot, "Those who recognize the goodness in life, no matter how simple or automatic, are more likely  to be sensitive to the needs of others and to help whenever they can. Being empathetic to others' opinions, experiences, and backgrounds will make you a better professional, no matter your career."
We know this year has been tough for families. They might need to take time to respectfully quarantine or take care of loved or little ones. Or they might be the ones covering for others and working twice as hard in our clients' stores. We also work through on-the-job challenges with our team members, helping them to find new solutions while being appreciative for all they have tried to do themselves. Recognizing and appreciating our employees is crucial to establishing healthy relationships and a family-like atmosphere at Quantum.  
Practicing gratitude every day
"I appreciate every person in each position here and how they all work together to serve our clients," Barrett shared. "I understand their routines and what they might face each day. That's why I believe the practice of sharing gratitude is so valuable in the workplace. Striving to practice it consistently throughout the company, every day, is a key goal." 
We also highly value the job we need to accomplish for our clients because they entrust us with their critical inventory counts. We wouldn't be in business if it weren't for the convenience store industry, and we appreciate their confidence in our work and partnership. When we receive notes of gratitude from clients, it absolutely inspires us to work harder. And, we know the same is true when we thank our employees. It's a braid of appreciation between our company, our employees and our clients that becomes stronger with each added gesture of thanks.  
Check out our current openings by visiting our Facebook page or careers website.