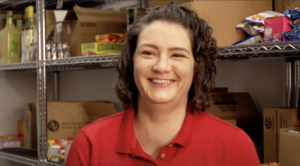 Erica Rock, Audit Supervisor with Quantum Services, felt the heavy hit of COVID-19 and made a risky decision to leave her position as a teacher to escape the pressures of micro-management, state requirements, and practice self-care by taking a much-needed break. However, being unemployed was also not the answer to her frustrations. She noticed an open position within Quantum Services to become an Inventory Auditor and decided to give it a shot. When she went in for the interview, she saw that so many people had been with the company for a lengthy period. This showed her that Quantum Services had a good environment and took great care of its people. This is what she needed, wanted, and was seeking to find. She soon found out what it meant to work with people who focused on being friendly and helpful every step of the way.
Unexpected Benefits
Erica walked into this position with no knowledge of the process. This is not what she went to school for, and although she felt it was a good fit, she was nervous and a little unsure. Now, after being with the company for less than 6 months, she has reaped so many unexpected rewards from her position with Quantum Services. Despite not knowing a lot about inventory, Erica says that Quantum helped her feel confident both personally and professionally. "Everyone is so supportive" she reflects, explaining that she never felt alone in the job and knew there was always someone to turn to for help. The training process was thorough, and the comfort of knowing she could work and learn at her own pace just showed her that the decision to join this team was the right one.  
After her comfort began to grow, she really fell into the process and enjoyed her days more and more. The best parts of her job are her co-workers, "we have fun! There is no judgment and people are not constantly looking over your shoulder. It is a self-motivated job and I love that." Another incentive is the prospect of growth. There are reasons that people have been with the company so long and having a lot of room for growth is one of those. When asked about the culture of Quantum Services, Erica said: 
"If I had to sum it up in two words it would be friendly and helpful. I haven't been here that long, and everyone is so friendly and helpful." 
Erica also likes the ability to travel. Each day, you are traveling all over the state (and sometimes beyond), and you get to see parts of the state you would have never thought of visiting. For Erica, having the ability to see things you otherwise would not has truly been a hidden treasure of working with Quantum.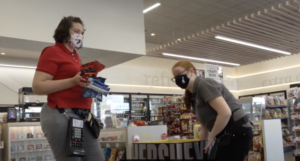 Learning How to Count
We all learn how to count when we are little but learning to count inventory is a whole different ballgame. When taking the inventory of a C-Store, Erica must count the items in the store, enter the book numbers from the store's list, and then compare the two. If something is off in comparison, sometimes a second count must happen. Once you are certain of your numbers, you share that with store management. When counting, you can use a scanner or the Titan – a fancy inventory calculator. The Titan is an essential tool that divides the store into different areas. Within those areas, you enter the price and then how many of that item there are. This will divide the store in a way that you can see how much is in a certain department, and once uploaded, the data is put into a format that is easy for store management to read and understand. When Erica started with Quantum Services, she wished she had known how slow she was going to be in the beginning. Watching the tenured auditors swiftly and quickly key their count was intimidating and discouraging. However, after 2 months, Erica was up to speed and keying just as quickly as the rest. Everyone starts out slow.  

What Erica has Learned
Erica shared with us some additional things that may assist any incoming applicant. According to Erica, the hardest part of this job is the physical demand. You are constantly moving, climbing ladders, and crouching down. She admits there are days she comes home sore but enjoys being able to move around during her workday. She also is not a huge fan of the early morning hours. Not typically a morning person, Erica secretly wishes that she could hit that snooze button a few times more, but the trade-off of having the afternoons and evenings free makes it worth it. As we ended our conversation with Erica, we asked her to give some advice to anyone thinking of applying:  
"It's worth applying. The work environment is great. We get paid fairly, and there is a ton of opportunity for growth, to create lasting friendships, and grow personally and professionally." 
Visit our job board today to see available positions in your area.