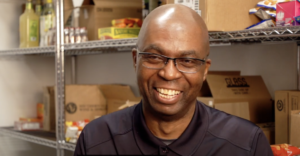 When transitioning from one job to another, it is imperative that you join a team that upholds their mission and core values, treats their employees with respect, and offers a company culture that satisfies your needs. You are moving to another position for one reason or another, and you don't want to end up stuck in a role that is worse off than the one you previously left. When Joe Moore, Division Manager with Quantum Services, was on the hunt for his next job after working 70-hour workweeks as a District Manager for a restaurant chain, he was ready for a change that gave him job fulfillment and offered him a life outside of work. That is when he stumbled upon open positions with Quantum Services as an Inventory Auditor.  
Then Versus Now
Working within the restaurant industry in a management position, Joe was familiar with the inventory process, although, as he soon found out, not to the level that is conducted within Quantum Services. He was excited about the prospect of not having to work 70-hour weeks and was hoping that this new position would offer him a more conducive work environment for his personal and professional needs. As he reflects upon his past position, he knows he made the right choice, saying that Quantum Services gives him the self-directed peaceful workday that he was craving. Prior, Joe was constantly involved in some kind of "emergency" and spent most of his time putting out various fires. At Quantum, he acknowledges that there can occasionally be a lot of hours, but he can always focus on the task at hand, and never takes the job home with him, allowing for a better work/life balance. He loves not having to commit to working on weekends and takes comfort in knowing that he will start his day early and be done by early afternoon.  
How Joe Helps His Clients
When talking with Joe, he repeatedly highlighted how much he enjoys working with his C-Store clients. Noting that Quantum helped him grow by giving him the ability to work directly with the C-Store managers to help them better their positions. By coming in, reporting accurate inventory numbers, and watching trends within those numbers, Joe can advise management on their losses and ways to improve. Whether it is a suggestion to move a product from a high-theft area of the store, enhancing ordering procedures, or suggestions on ways to use their ordering software – Joe gets a great feeling of accomplishment by doing his job and helping his clients. One of his goals is to find a way to help every manager in every store find the value of keeping an organized store and understand how that can have a significant impact on their success.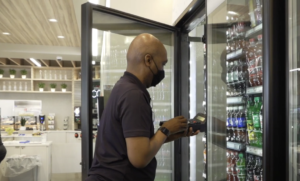 Quantum Services Company Culture
As a family-run business, working for Quantum Services feels like working with a close-knit family, and maintaining a culture that is encompassed by their four main Core Values: Integrity, Appreciation, Continuous Improvement, and Adaptability. We asked Joe his view on the company culture within Quantum, and he was quick to say "The people here, walk the talk. They live by their core values." Joe pointed out that he has never worked for a company before which made him feel more appreciation than Quantum has. He has received some kind of gesture of appreciation from every department that he has worked with  the company, from the President to IT to support, saying "it feels good to be recognized and feel appreciated when you do a good job or go above and beyond." He knows that he can call anyone and give any kind of feedback – positive or negative, and he will be heard, something he cherishes about this organization. He has had the opportunity to meet and connect with division managers across the country and says "I can call any of them for help or support, and I do. They know they can call me too, and that is a great feeling."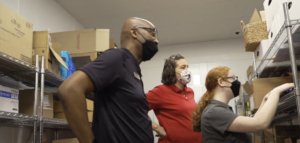 Words of Wisdom
As we ended our interview, we asked Joe the same question we ask everyone we talk to: "What is one thing you wish you knew when you were applying?" After a long pause, Joe said: 
"I'm really happy here. I don't want to sound like a commercial, but this is the real for me. My real is that I am happy. This is a special place. I find when some auditors come, new auditors – you can quickly tell if they're going to like here or if they are not. And if they don't like it, there is nothing wrong with saying you made a mistake, because, yes, this job can get tough. But if it's a performance issue, we will work on it and we can fix that." 
If you are interested in learning more about what it means to be part of this special team, view our job postings today! Working together with the framework of our core values, we strive to promote work-life balance, respect, and appreciate our team and all they do for our company!