A Guide on What to Expect When you Join our Team
One must consider many things when looking for a new career, and the process can be daunting. However, sometimes making a change is necessary. When we find ourselves complaining, dreading going to work, and generally unhappy – it is up to us to take ownership of our careers and lives and make that change. Yet sometimes the comfort we have in our day-to-day can overcome our motivation to find something new. Your happiness is worth the work and the boost in your quality of life once you find that perfect fit, is priceless.  
Quantum Services offers a unique, self-guided workday that encourages work/life balance and a sense of accomplishment and pride. If you find yourself unhappy in your current position and are looking for something new, becoming an inventory auditor may be the answer to your problems. Worried about having experience or the proper education? Becoming an inventory auditor is ideal for those just entering the workforce or may have gaps in their resume. Limited experience or education will not count against you as an applicant, as long as you have a willingness to learn, a positive attitude, and an ability to adapt and grow. Many of our employees join us from prior jobs in retail, inventory, restaurant, merchandising, or warehouse services. 
Common Complaints

   
Let's face it, we will not always get exactly what we want all the time. Work and life are an ebb and flow of compromises. As human beings, we need to be able to balance the good and the bad and choose our battles. Part of being a successful person is being able to deal with a variety of situations and people. When we talk to applicants about why they are unhappy in their current job, the most common complaints we hear are: 
Lack of communication

 

Unfair pay/benefits

 

No job security

 

Under appreciation

 

Favoritism

 

Overworked

 

Micromanagement 

 

Incompetent management

 

No opportunity for advancement

 

Overbearing boss

 
Most of these concerns are beyond your control and can make you feel like you are not a valued member of the team. At Quantum Services, we combat these issues by living our values as a company. We also invest in our employees and build leadership in every position. Consistency and respect for our employees and our clients have paved the way to growth and success. Quantum understands that investing in our people is just as valuable as investing in our business and our customers. Our people are the face of our business, and we want them to be satisfied in their jobs. By streamlining our processes and investing in training, we strive for our people to feel supported and crucial in their roles.  
Core Values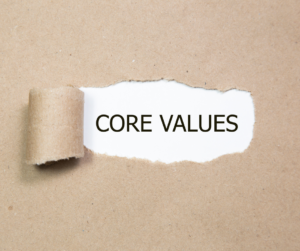 Our values define us as a company, and we are extremely dedicated to living by them whenever working with our clients as well as with our team. There are four core values that Quantum Services lives by: 
Integrity | 

Integrity is our core value, and it serves as the heart of Quantum Services. When we serve with integrity, we know we are doing the right thing and holding ourselves to the highest standards of professionalism and accuracy. Integrity is essential to the personal success of each of our employees and meeting our clients' expectations. 

 

Appreciation | 

The value of appreciation is deeply embedded in our company culture. People want to be admired and recognized for what they do. The practice of sharing gratitude in the workplace is invaluable. Striving to practice it consistently throughout the company is a key goal to ensure we notice when others go the extra mile.

 

Continuous Improvement | 

You cannot thrive in the auditing industry for 50 years unless you are constantly working to better your people and your processes. We welcome all forms of feedback, from our team members and clients, and stay conscious of shifting technology and processes to ensure we stay ahead in our industry. 

 

Adaptability | 

Adaptability is the hallmark of each Quantum team member. We are flexible, innovative, and always trying to find a better way to do things. Embracing change with creativity and positivity is something we expect as we grow. It is a challenge to be ready for adjustments, but it is also a source of pride to know we can handle whatever comes our way. 

 
The Job
Being an inventory auditor provides a unique and independent workday, starting with the rising sun. As an inventory auditor, you will be working early weekday shifts. Getting on the road as early as 5 am, with a different destination each day. Some locations are within 10 mins, others can be up to a couple of hours away, but the diversity of having a different "office" every day provides variety and squashes the idea of a monotonous workday.  
Once you arrive on-site and say hello to the C-Store team, you can get to work! Auditors' work includes physically counting and/or scanning inventory, like snacks, drinks, and tobacco. While working, you will likely find you are chatting with the C-Store staff and building relationships. The time it takes to complete an audit varies by store size and audit type. Once you finish counting, you will input the audit's paperwork and check your work on your laptops to verify there are no mistakes. Rest assured, we know that mistakes do happen, we are all human. If a mistake is identified, you will do the necessary recounts and review the results with the managers on site.  
After walking the store to make sure nothing was missed and discussing results with management, the count is completed. Auditors usually count one to two stores in a day and finish when the work is done. Some days are earlier, some are later, it all depends on the store preparedness, potential recounts, and distance traveled. With an earlier start, you get an earlier end time and more evenings home with your friends and family – something unique and attractive about being an Inventory Auditor for Quantum Services.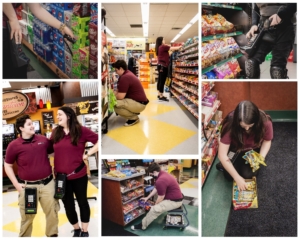 An Inventory Auditor at Quantum is an independent early riser. They have their own transportation and want freedom in their workday. Also, they are punctual, observant, and consistent in their work ethic. Our Inventory Auditors are self-starters. They are driven to do their best and serve with integrity, adaptability, and patience each day. 
Available positions are ideal for those who are just entering the workforce. Or, they might have gaps in their resume or are returning to work with limited experience or education. Many of our employees join us from prior jobs in retail, inventory, restaurant, merchandising, or warehouse services. 
Our Inventory Auditors enjoy a self-directed workday. They appreciate independence and the need to stay motivated to complete their work accurately and efficiently on their own. We value problem-solvers, reliable people who have no problem using their allotted time wisely and efficiently.  
Our Clients
Our clients span the nation and are top-rated and trusted convenience stores. We work with a variety of brands and get to know their needs and concerns on a case-by-case basis.  Some of these include truenorth, Racetrac, Chevron, Dandy, Sheetz, & Gate. Our Inventory Auditors are the front-line force working closely with them to maintain accurate inventory data so they can control and reduce losses in their stores. At Quantum, we encourage developing dependable and lasting relationships to secure trust with the C-Store staff.  Our Inventory Auditors are our ambassadors of Quantum Services and provide expertise and exceptional customer service to each and every one of our clients ensuring quality, accuracy, and guaranteed satisfaction.  
Competitive Benefits
At Quantum Services we understand that providing competitive benefits for our employees is of the utmost importance. We are delighted to take care of our employees and their families. Our premium healthcare benefits, as well as travel reimbursement, ensure our team maintains peace of mind when joining Quantum Services. This is why one of the greatest rewards we are excited to offer is affordable health and wellness coverage.  
We offer a high deductible healthcare plan (HDHP) for medical insurance with a Health Savings Account (HSA.) This provides the employee with choices concerning their health care coverage and costs. Quantum will match up to $520 per year in your HSA which allows you to contribute tax-free money toward out-of-pocket medical expenses. These monies can go toward prescription drugs, dental visits, and contact lenses just to name a few! This money is yours and can be used for yourself or any dependents you list. You can also choose to invest it and watch it grow, tax-free! 
With the rising cost of healthcare in our country today, it can be difficult to find the best care that will not leave you worrying about the balance in your bank account. In order to combat unnecessary financial burdens, Quantum Services also offers its employees an online tool called My Medical Shopper. This online platform allows the employee to log in to the site and search locally where to receive medical treatment based on price, quality, and convenience. Using this tool, you can attain lower out-of-pocket costs and view varied pricing levels across different healthcare providers. It is easy to use and can help individuals save hundreds (if not thousands) of dollars on medical expenses.  
The healthcare benefits we offer our full-time employees (working a minimum of 25 hours a week) and their eligible dependents are designed to help you stay healthy and maintain a strong work/life balance. We proudly include the following benefits: 
Medical and Dental Insurance

 

Vision reimbursement

 

Short-term and long-term disability

 

Health Savings Account with company match

 

Telemedicine through 

Teladoc

My Medical Shopper online tool

 

Healthy rewards program

 

Basic life and voluntary life insurance

 
Hourly Wages & Travel Compensation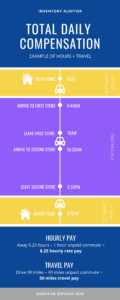 Being an inventory auditor is not your typical 9-5 workday and travel with your own vehicle is required, so there are a few ways Quantum Services competitively compensates you for your work and travel. An Inventory Auditor's total compensation is earned to help offset the cost of gas, insurance, vehicle maintenance, and travel beyond a normal commute time and distance.  
Hourly Pay
An inventory auditor gets paid an hourly wage for every hour they work at a client store or drive between client sites. They are also paid an hourly wage for any commute time to and from their home, which is over 30 minutes each way. 
Travel Pay
Every inventory auditor also gets paid for their daily travel between client sites. Any miles you log between client sites will earn you travel pay based upon Quantum's current travel pay rate. In addition, if you travel more than 20 miles during either commute—the drive you make from your home to the first client site and the drive you make from the last client site to your home—you will earn travel pay. And that is every day! 
We realize this can come off confusing, but we assure you that once you figure out the math it is easy, and you will find yourself coming out ahead. We are happy to help our new Inventory Auditors as they navigate how to record their hourly pay and their travel pay accurately and without confusion.  
Our Code of Ethics
If you have read up to this point and are thinking "This sounds great! I think this is the perfect fit for me" we are excited to hear it! We know it takes a certain kind of individual to uphold our values, work hard, and be able to manage their own workday – and if you are one of those people, check out our job postings! But first, there is one more crucial item we need to cover, our code of ethics. As the face of our company when you are out in the field, we expect Inventory Auditors to embody and live by our values and use common sense to guide their decisions. If there is ever a question, just ask. 
 Rule #1 – Integrity First 
Do the right thing, every day. Never take shortcuts. Lead with honesty and always tell the truth. Did you mess up? No big deal, we are human, and we make mistakes. Just admit the mistake, correct it, learn from it, and move on. Ask questions when things get tough. Call for help and ask leadership about unclear expectations. We are here to help you do your job to the best of your ability and we want to see you succeed! 
Rule #2 – Safeguard Our Values 
Quantum Services is proud of the core values that have guided us for half a century. They help us to make the right decisions for the company and our clients. These are the building blocks of our 100% guarantee and provide the foundation for our growing company. Using our values as a guideline has kept our services consistent and our clients happy. As a reminder, our values include: 
Integrity

 

Continuous Improvement

 

Appreciation

 

Adaptability

 
Rule #3 – Never Disclose Confidential Information 
Our clients trust us to complete accurate, efficient work for them. They also expect their information to remain private and confidential. Our inventory auditors respect this trust and build strong, rewarding relationships with each client. Breaching that trust is unacceptable and will not be tolerated. We take our jobs and our client's information seriously and uphold our promise to keep confidential information confidential. 
Rule #4 – Submit Accurate Records 
Each client's audit results are recorded accurately. And all hours worked in stores and miles traveled are noted honestly by each employee. It is a system built on confidence in our people to be timely and precise with their records. When trust is developed, employees can gain new opportunities and advancement within Quantum Services. 
Rule #5 – Treat People Fairly 
At Quantum Services, we value a diverse workforce and happily benefit from it. Discrimination or harassment of any kind is never tolerated. Like mom always said, "treat others the way you expect to be treated." Kindness, honestly, and respect are essential to our company and our clients. We strive to be the employer of choice in our growing industry. 
We are proud to offer our employees this Code of Ethics and Business Conduct as an important guide for workdays. It not only speaks to how we do business, but how we value ourselves and our clients. If you would like to work for a company with strong ethics and values, we are ready to welcome you! We are seeking new inventory auditors across the country and would love to hear from you!  
Joining Our Team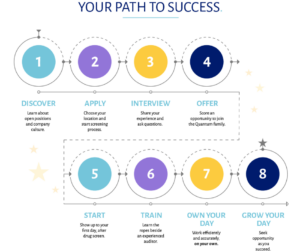 Our job openings are changing daily, so be sure to check often to see if we are hiring in your area. Once you have found a position in your area and you know you want to join our team, you can apply directly from our website. Read carefully through the application and take your time filling it out and uploading your resume. Verify your phone number and address are listed and accurate. When applying, we urge you to be transparent and honest with us about your experiences and work history. We are open to hiring people with diverse backgrounds who demonstrate integrity (core value!) and a good attitude. Please note that because our auditors drive daily for their job, all applicants must be able to pass motor vehicle records check and drug tests prior to being hired. They also must provide a valid driver's license and proof of liability car insurance.  
Once you have submitted the application and all the information has been verified, you will receive a series of text questions within 1-3 business days. These questions will be a way to verify you are still interested in the position, the scope of the job, and the starting hourly wage. It is key to answer these questions honestly, quickly, and accurately to make sure the process continues to move forward. If you are no longer interested in the position, tell us! We understand that circumstances can change and appreciate you letting us know if this is the case. At the end of the text screening, if everything goes smoothly, a phone interview will be scheduled to learn more about you and review the next steps.  We suggest reviewing our careers website and writing down any questions or concerns you may have. This will help you have the information you need and help you feel secure in your choice to move forward in the hiring process. Transparency is encouraged and questions are appreciated!  
If it looks like a good fit for you and us, Quantum Services will make you an offer to join our team! If the offer is accepted and pending a clear drug test, we will let you know about your first day. You will find out where to go, what time to show up, and what to expect. At this point, you will be thoroughly trained through the auditing process, and do not worry, we are there to answer any questions or concerns that may arise. Our team is always just a phone call away to help you be the best inventory auditor you can be.  
What Our Employees have to say about Quantum Services: 
"I started at Quantum when I was just 20 years old. The company has given me the opportunity to display my talents and skills, and make a career and comfortable life for myself." 
Carlos Lara, Texas, a 20-year employee 
"I love working Monday through Friday, during early daytime hours. Quantum is a family-owned company that treats you fairly, recognizes you for your work, and always listens to its employees." 
Nora Rottman, Ohio, a 19-year employee 
"Quantum's culture has been created through a learning mindset—the company is willing to adapt alongside employees, together. They truly listen to the concerns from the auditors out in the field." 
Deb Rittenhouse, Pennsylvania, a 29-year employee 
"There are so many opportunities to build your skills and have a career with Quantum. There are chances to travel and help other divisions, or even relocate with assistance from the company if that interests you. We are always learning new things through training, and promoting our own people from within." 
Lynnette Spirthes, New York, a 27-year employee 
For more insights from our Inventory Auditors, check out the link below!